Did you know that you could order food off of etsy? Neither did I! Recently I was searching on there for macaron shaped soap bars and discovered people selling real macarons! Infact, there's a whole plants and edible section!
There is absolutely no where local to me that sells macarons. Last Christmas I resorted to making my own, mint with a chocolate ganache filling! They were so tasty, but rather ugly if I do say so myself!
In an attempt to have some real macarons I ordered this petite macaron sampler or three flavors!
like this here!
From seller:
SparklesKitchen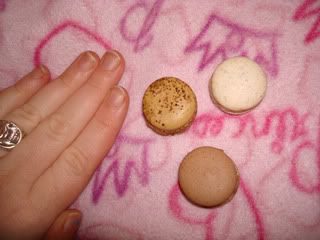 The flavors included were; Dark chocolate, coffee, and hazelnut.
The chocolate was my favorite as I am a huge chocolate nut. The coffee was my least favorite since I'm not too fond of the beverage. Hazelnut was nice! They were about an inch in diameter, tiny, but very adorable!
The chocolate macaron! In all of it's choctastic glory!
So overall it was a positive thing! I would recommend that you search Esty's plants and edibles section too!